NetApp ONTAP AI Architecture
Now you can fully realize the promise of AI and DL by simplifying, accelerating, and integrating your data pipeline with the NetApp ONTAP® AI proven architecture, powered by NVIDIA DGX supercomputers and NetApp cloud-connected all-flash storage. Streamline the flow of data reliably and speed up training and inference with the Data Fabric that spans from edge to core to cloud.
At the heart of ONTAP AI is the NVIDIA DGX-1 AI supercomputer, a fully integrated hardware and software system that is purpose-built for DL. Each DGX-1 server is powered by eight Tesla V100 Tensor Core GPUs, configured in a hybrid cube-mesh topology using NVIDIA NVLink. With NVLink in the DGX-1, you get an ultra-high-bandwidth, low-latency fabric for the inter-GPU communications that are essential to multi-GPU training, eliminating the bottleneck associated with PCIe-based interconnect. The DGX platform leverages the NVIDIA GPU Cloud Deep Learning Software Stack, which is optimized for maximum GPU-accelerated DL performance.
NetApp AFF systems keep data flowing to DL processes with the industry's fastest and most flexible all-flash storage, featuring the world's first end-to-end NVMe technologies. The AFF A800 is capable of feeding data to NVIDIA DGX-1 systems up to 4 times faster than competing solutions.
NetApp's Data Fabric offers best-in-class data management and cloud integration to help you accelerate DL while managing and protecting your critical data. ONTAP delivers an unparalleled 22:1 overall data-reduction ratio and up to 54% lower TCO compared to direct-attached storage. Leveraging industry-leading data services capabilities, ONTAP helps you manage and protect your data with a single set of tools, regardless of where it resides, and freely move data to wherever it's needed, from edge to core to cloud.
The solution comes integrated with Cisco Nexus 3232C 100Gb Ethernet switches, which provide the low latency, high density, high performance, and power efficiency demanded by AI environments. Now, with ONTAP AI, you can simplify deployment and management with single-point-of-contact support for your NVIDIA, NetApp, and Cisco proven architecture.
Find out more here.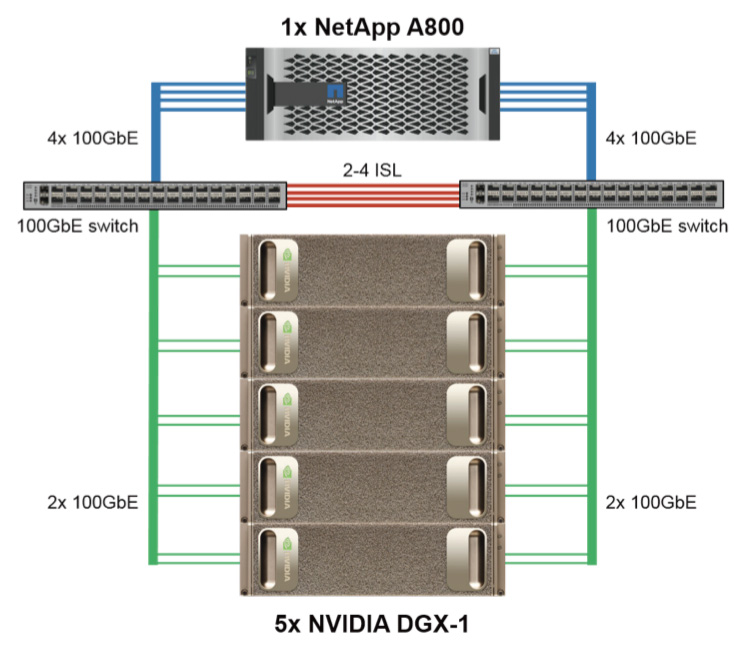 The NetApp ONTAP AI proven architecture.
NetApp FlexPod
The FlexPod Datacenter with NetApp All Flash FAS system is a converged infrastructure platform that combines best-of breed technologies from NetApp and Cisco into a powerful converged platform for enterprise applications. NetApp works closely with Oracle to support the most demanding transactional and response-time-sensitive databases required by today's businesses. Simultaneously, NetApp works with VMware to support the most demanding virtualization and desktop virtualization infrastructures.
Like all FlexPod Systems, the FlexPod Datacenter with NetApp All Flash FAS is comprised of compute (database, virtualization, application, and management servers from Cisco), network (three-layer network and SAN technologies from Cisco), and storage (NetApp All Flash FAS storage systems).
Platform for Innovation:
Power your modern AI and enterprise applications.
Power the most demanding Artificial Intelligence/Machine Learning/Deep Learning applications with infrastructure optimized for analytic workloads.
Assure performance of modern enterprise workloads with next generation compute, storage and fabric.
Dramatically reduce data center costs with industry leading efficiencies
AFF A-Series All Flash Arrays
NetApp® AFF systems help you meet your enterprise storage requirements with industry's highest performance, superior flexibility, and best-in-class data management and cloud integration. Combined with the industry's first end-to-end NVMe technologies and NetApp ONTAP® data management software, AFF systems accelerate, manage, and protect your business-critical data. With an AFF system, you can make an easy and risk-free transition to flash for your digital transformation.
Designed specifically for flash, the AFF A-Series all-flash systems deliver industry-leading performance, capacity density, scalability, security, and network connectivity in dense form factors. With the addition of the new NVMe-based AFF A800, the AFF A-Series family extends enterprise-grade flash to AI and to machine learning. By combining low-latency NVMe solid-state drives (SSDs) and the first NVMe over Fibre Channel (NVMe/FC) connectivity, AFF A800 delivers below 200μs latency and a massive throughput of up to 300GB/s in a 24-node cluster
With rich data management capabilities, NetApp AFF systems help you cut business costs.
Hybrid Flash Storage Systems
Created for shared, consolidated SAN and NAS environments that require rich data management and easy cloud connection. Perfect for enterprise applications, virtualization, Microsoft solutions, and backup and recovery.
Key Benefits:
Accelerate Enterprise Applications Reduce latency and speed operations
Optimized for the Hybrid Cloud
Maximize Uptime
Enhance Reliability, Availability, and Serviceability
Consolidate Infrastructure
Adapt Faster to Changing Need

Standardize data management across architectures with a rich set of enterprise data services.
ONTAP Data Management Software
Modernize your data management and harness the power of the hybrid cloud with NetApp® ONTAP® 9, the industry's leading enterprise data management software. ONTAP 9 combines new levels of simplicity and flexibility with powerful data manage-ment capabilities, storage efficiencies, and leading cloud integration.
With ONTAP 9, you can build a hybrid cloud that is the foundation of a NetApp Data Fabric that spans flash, disk, and cloud. You can seamlessly manage your data as it flows to wherever you need it most to help you make the best possible decisions for your organization. ONTAP 9 addresses the challenges that face your digital enterprise by:
Simplifying deployment and data management
Future-proofing your data infrastructure
Powering your enterprise application

Across the NetApp data fabric, you can count on a common set of features and fast, efficient replication across platforms. You can use the same interface and the same data management tools.
NetApp® StorageGRID®
NetApp® StorageGRID® is a software-defined object storage solution for large archives, media repositories, and web data stores. StorageGRID uses intelligent policy-driven data management to store, protect, and preserve fixed-content data over long periods of time, seamlessly moving data between on-premises and public cloud storage to optimize its availability, protection, performance, and cost.
The NetApp StorageGRID appliances combine storage, compute, and object storage software in a single solution to create a building block for enterprise-grade object storage.
Key Benefits:
Enterprise-Grade Object Storage that combines best-in-class NetApp® hardware with NetApp StorageGRID® object storage software creates a solution for the most demanding workloads
Simple Deployment and Management
Performance and Density-Optimized Storage Nodes
Optimized Data Protection
Lower Cost per Gigabyte