Quantum Storage Solutions
XENON works closely with Quantum to deliver specialised storage solutions that enable the most demanding workflows, from next-gen data protection and archiving to scale-out storage.
Scale-out Storage
Quantum Scale-out Storage is high-performance shared storage designed to accelerate complex information workflows—powered by StorNext® 5, the industry's fastest streaming file system.
these solutions include:
StorNext® 5 Scale-out Storage
StorNext® is high-performance shared storage designed to accelerate complex information workflows. It includes Xcellis workflow storage, extended online storage, and tape archives—all powered by StorNext 5 data management, the industry's fastest streaming file system and policy-driven tiering software.
Xcellis Next Generation Workflow Storage
Powered by StorNext 5, the world's leading collaborative content production and archive software platform, Xcellis delivers a balanced combination of performance, reliability and scalability.
Xcellis combines the power of SAN and the low cost connectivity of NAS in a fully scalable hardware solution that simplifies the storage architecture and streamlines operations. With Xcellis, you can enhance your workflows to boost user efficiency, productivity and creativity in delivering the products and services that drive your business.
Lattus™ Object Storage
Built on next-generation object storage technology, Lattus is durable online storage that scales to hundreds of petabytes more economically than primary storage, with better performance than tape. As a policy-driven tier in a StorNext scale-out storage solution, Lattus enables you to extend primary storage with scalable and more cost-effective online storage—ideal for large repositories that have unpredictable access patterns, and for organizations struggling with the challenges of data growth.
StorNext® Q-Cloud Archive
This platform provides easy and cost-effective on-demand access to cloud storage for increased flexibility, protection, and availability. Fully integrated into StorNext 5 and extends intelligent policy-based tiering into the cloud. No additional hardware or software required.
StorNext Q-Cloud Archive provides access to a virtually limitless pool of off-premise storage through StorNext 5 data management software. Just set your policies based on your business requirements and StorNext automatically copies or moves data to highly reliable, always-available cloud storage—with no scripts, programming, or manual processes. Use it for enhanced data protection, on-the-fly scalability, or to offload content from primary storage. The choice is yours.
From left to right: StorNext® 5 Scale-out Storage, StorNext® Q-Cloud Archive, Xcellis Next Generation Workflow Storage, Lattus™ Object Storage
Archiving
Quantum archive solutions allow you to retain data longer and keep it accessible to users by leveraging a range of technologies like object storage, intelligent tiering software, and LTO.
Artico™ NAS Appliance
This applicance is purpose-built to scale from small environments to petabyte scale. It supports a wide array of archive storage targets making it easy to integrate into your target environment. Its disk cache makes it ideal for active workflows, and with StorNext inside, it can intelligently move data from active disk to archive storage delivering the best TCO model for storing, accessing and protecting data.

StorNext® 5 Scale-out Storage for large Archives
This high-performance shared storage solution is designed for collaborative workflows with large sets of large files. StorNext 5 and Storage Manager work together to deliver seamless integration for flexible and expressive rules-based management, tiering and archiving. Output to LTFS format for delivery and archive, or leverage StorNext API or even REST API via StorNext Lattus™ Object Storage.

Lattus™ for Large-scale Extended Online Storage
Lattus is durable online storage that scales to hundreds of petabytes—more economical than primary disk, with better performance and lower latency than tape. Lattus is ideal for large-scale data repositories that have unpredictable access patterns, such as high-performance, low-latency, "I don't know when I will need it, but when I do, I need it now" access.

Scalar® Libraries for Long-term Archives
Tape continues to be the lowest-cost, high-reliability technology for archive and long-term data storage. Scalar® Libraries can dramatically improve the security and manageability of your archive, disaster recovery, and enterprise backup processes. Designed to grow with your needs, all Scalar tape libraries include embedded iLayer™ software to provide best-in-class management, monitoring, data integrity and data security capabilities.

From left to right: Artico™ NAS Appliance, StorNext® 5 Scale-out Storage, Lattus™ Large-scale Extended Online Storage, Scalar® Libraries
Data Protection
Quantum offers industry-leading backup and DR solutions for physical, virtual, and cloud environments—with products that integrate innovative deduplication, replication, and cloud technologies.
Quantum DXi
Powered by DXi® Software, Quantum's new portfolio of deduplication solutions provides patented variable-length deduplication that not only reduces disk usage and capital expenditures, but also enables efficient data movement across the WAN to other sites and to the cloud.
Quantum DXi minimizes disk storage via patented variable-length deduplication that maximizes data reduction providing lowest OPEX and maximizes efficiencies locally, in the cloud and across WANs. In addition, DXi with Arkivio Autostor empowers customers to use the same appliance simultaneously for both data back-up and data archiving, helping them save big on their ever-growing storage costs.
Q-Cloud™ Protect
Q-Cloud™ Protect is a virtual deduplication appliance that works with Quantum DXi systems to provide a hybrid-cloud backup and disaster recovery solution. For companies with a single site looking to protect their business against localized disasters, companies looking to eliminate tape for offsite protection, or companies looking for a hybrid-cloud approach to backup and DR, Q-Cloud Protect was designed to meet your needs.
LTO Tape Drives
As your long-term data storage grows, so does your need for a dependable and efficient way to keep it protected. Based on the world's leading tape technology, Quantum's LTO tape drives work seamlessly with Scalar® tape libraries and automatically match the tape drive speed to that of the host, optimizing performance and increasing reliability. Plus, Quantum's LTO Tape Drives are easy to deploy and upgrade – perfect for small, midsized, and corporate storage environments.
LTO Tape Drive Products include:
LTO-7, LTO-6 and LTO-5 lead the industry in capacity, performance, energy efficiency and security. The new LTFS feature enables drag-and-drop file management as well.
LTO-4 offers high performance and energy efficiency in a half-height drive, available in SCSI and SAS, along with AES 265-bit data encryption.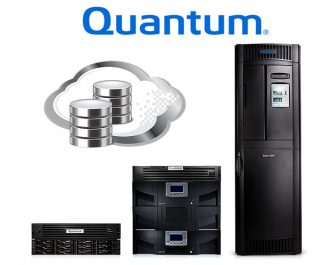 From left to right: Quantum DXi®, Q-Cloud™ Protect, LTO Tape Drives
Hybrid Storage
Designed for high performance, efficiency, reliability, and scalability, Quantum QXS hybrid storage portfolio optimizes flash and disk to significantly lower operating and capital costs.
QXS Hybrid Storage
QXS hybrid storage is a family of primary storage systems that make it easy to select the perfect system for your environment and budget. QXS hybrid systems are customizable and scalable by alternating key elements. While all QXS hybrid systems are available with intelligent tiering, the QXS-3 Series features a balanced mix of reliability and availability; the QXS-4 Series delivers the optimal mix of performance, cost and storage density while the QXS-6 meets the IOPS requirements of the most demanding workflows.
Benefits include:
Intelligent Data Tiering
Tiering data based on usage is a necessity
Keeping in-demand data in the highest-performing storage is the smart thing to do. QXS hybrid storage incorporates intelligent data access algorithms to ensure the most requested data is in the highest-performing tier seamlessly and automatically. This enables the optimal use of higher-cost, high-performance storage.
Designed for Speed
All-flash performance for a fraction of the cost.
We built QXS hybrid storage to be fast—really fast. QXS hybrid systems maximize performance regardless of disk type or configuration—all disk, all flash or flash and disk. With as little as 10% capacity dedicated to flash, QXS hybrid performance is up to 200,000 IOPS and is on par with all-flash arrays at a fraction of the cost. Designed for demanding sequential I/O performance, we use multi-core processing, active-active controllers, and separate paths for internal management and external data access.
Systems Pre-configured for Optimisation
Confidence when installing new storage systems
QXS hybrid storage is offered with 1-button configurations. These 1-button configurations are optimized for specific workflows and applications that have been extensively tested by Quantum. There is no risk or uncertainty when you install pre-defined, thoroughly tested QXS hybrid storage systems.